La Sabotiere - Gites
CHRISTMAS - NEW EVE
St Nicholas des Eaux Village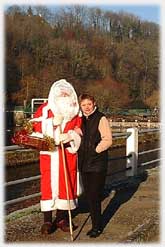 St Nicholas des Eaux
NEW YEAR HOLIDAY
New Year's Eve is an occasion to get together with friends and family for a midnight feast.......the whole atmosphere is extremely festive.
Dinner dances are held in many of the restaurants, where the orchestras play non-stop until dawn. Other restaurants offer traditional candle-light dinners in cozy surroundings.
A gastronomic menu together with well known French wines recommended by the sommelier will guarantee that you enjoy an unforgettable evening.
Restaurants are open on December 31st and January 1st, and reserving a table is recommended.
A list of restaurants is available upon request.
CHRISTMAS HOLIDAY IN BRITTANY
Traditionally every year, in the evenings, you will find the Christmas Markets in all the towns. Local artists display their crafts during this time: Last minute gifts, holiday souvenirs and amusements are on offer, and also the opportunity to enjoy listening to the music and breathe in the tantalising scents amidst the colourful stalls.
The Christmas Markets are also a great opportunity to sample our local produce............tables laden with pate, sea food and game. Here the housewife does her shopping, and the restaurateurs order their fresh ingredients in order to guarantee you the finest of meals during the Christmas festivities.
Restaurants are open on Christmas Day, when a special a la carte menu is available, and the best wines are brought from the cellars.
The Churches each have their own Nativity scenes, where you can visit and enjoy the peace and tranquillity before the traditional Christmas Eve celebrations.
Our gites are hung with festive Christmas decorations Eve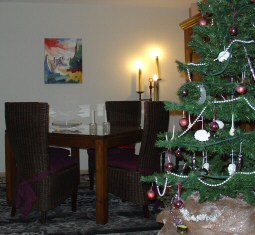 'Here Le Heron'
A typical Christmas Eve menu available here
Gastronomic menu (Exemple here..Tested of course !)
2 self catering holiday gites to rent - St Nicolas des Eaux Morbihan-Bretagne West France