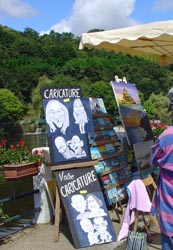 La Sabotiere - Gites

St Nicholas des Eaux
Brittany - Morbihan

Phone : 33 (0) 2 97 51 81 34
(0) 9 51 22 72 25
MARKETS IN BRITTANY
Weekly or seasonal, morning or evening, market day in Brittany -Bretagne area- is fete day.
No town is without its spectacle of colors, aromes and talents reflecting the charm of these towns and the identity of the land
Auray : Monday & Friday. In summer every first Sunday of each month, art market
Baud : Saturday morning.
Hennebont Hennebont : Thursday morning
Josselin Josselin : Saturday morning.
Locmine Locmine : Thursday morning.
Malestroit Malestroit : Thursday morning.
Pontivy market Pontivy : Monday & Saturday.
Locmine Lorient : Daily fresh produce market from 09:30-12:30 in the Halles centrales 'Merville'
Port-louis market day Port-Louis : Saturday morning - July & August Tuesday evening.
Vannes market day Vannes : Wednesday & Saturday morning
St Nicholas des Eaux market on July : Saturday PM.
Holiday rentals southern Brittany St Nicolas des Eaux Morbihan Bretagne France