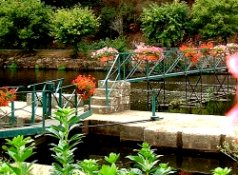 St Nicholas des Eaux

La Sabotiere - Gites

Throughout the year in Brittany : Festivals, Pardons (Religious festivals), Fest noz (Breton dances), Markets Antique shops, brocante flea, Fairs, exhibitions, Vannes Aquiarium Museums and Galleries, Visit of the castels, Parks and Gardens, Picturesque villages to explore, Visit of the Art and Historic towns...


St Nicholas des Eaux Village

There are two restaurants where a variety of tempting Breton cuisine is available, bars, a pub and 1 creperie. Isabelle (creperie 'Le Chalet') is specialist of 'crepes' and will be pleased to welcome you. Why not stop and taste a traditionally made crepe...
The pub of St Nicholas or Castennec propose you a Free concert every week all year round : Country, Rhythm'n'Blues, Rock'n'Roll...

Saint Nicolas des Eaux, touristic village of Brittany, invites you to step outside of time beside a river full of fish that snakes its way through spaces of magic and legend. On the walker's path, if you are lucky you will see herons and kingfishers near the water. St Nicolas is well known to anglers who willingly cohabit with walkers along the towpath and those who rent pedalos or canoes from 'LA BASE NAUTIQUE'(an introduction or advanced courses to white water or calm water canoeing) La base Nautique is only 200 metres from our gites

Electric boat or electric bikes can be rent at the house of 'l'eclusiere'

The karting center is located at Port Arthur Just 3 kms from the village of St Nicolas At Rimaison (8 minutes drive away) you will discover an undulating golf course which apart from its countryside, offers panoramic views of the Blavet Valley. See the page GOLF
You can legally swim in Blavet river, There is no public swimming pool in St nicholas today, but a public outdoor swimming pool will be created for 2019 - 2020 near the new 'base nautique', 200 metres from our gites...
The nearest public swimming pool is located in Baud 10 mns car drive or PONTIVY where a spadum is open or an air swimming pool
There is a small grocery at St Nicholas, open every day during the high season.
5 minutes drive brings you to the market town of Plumeliau where you can find supermarkets, banks, post office, and petrol station service...
2 -

Holiday rentals southern Brittany St Nicolas des Eaux Morbihan Bretagne France